New 'Terminator' Movie Release Date Revealed!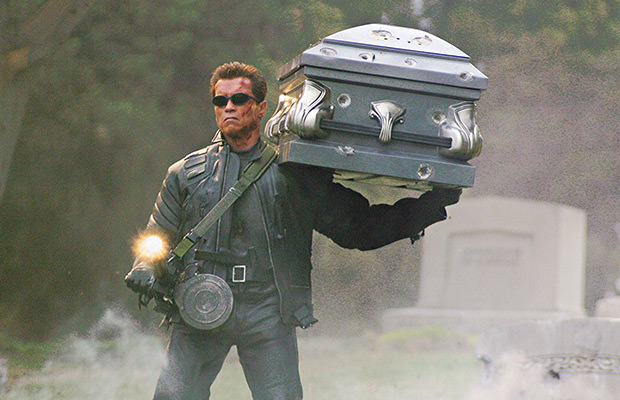 Photo credit: Warner Bros. Pictures/Columbia Pictures
Looks like summer 2019 will be a rather busy one.
The new "
Terminator
" movie, or as we should all start calling it – the REAL Terminator 3 – is shaping up pretty nicely.
All the right and needed elements are falling into place. With director Tim Miller (Deadpool) being onboard and with the franchise's veterans Arnold Schwarzenegger and Linda Hamilton coming back to reprise their respective roles, this upcoming installment indeed looks promising.
Now, Paramount and producer James Cameron have even set a date for their next return to the Terminator universe – July 26th, 2019.
(RELATED: Christian Bale On New Terminator – 'Wisdom Is Knowing When To Walk Away')
Reinventing The Franchise
Cameron will try to resuscitate the Terminator with him and Miller handling the story they came up with and handed over to David Goyer and Josh Friedman to turn into a script.
The aim is to kick off a new trilogy.
And although all the juicy details are still being kept under wraps, Cameron did say his idea is to somehow erase all the installments that happened after the original two movies from the timeline.
"This is a continuation of the story from The Terminator and Terminator 2," says Cameron. "And we're pretending the other films were a bad dream. Or an alternate timeline, which is permissible in our multi-verse."
"This was really driven more by Tim than anybody, surprisingly, because I came in pretty agnostic about where we took it. The only thing I insisted on was that we somehow revamp it and reinvent it for the 21st century."
Cameron and Miller are currently scouting for a young female lead to further freshen up the blood of the franchise.
(ALSO READ: Top 9 Classic Action Movies To Get You Through The Work Week)