'Jay And Silent Bob' Reboot Is Happening, Kevin Smith Announces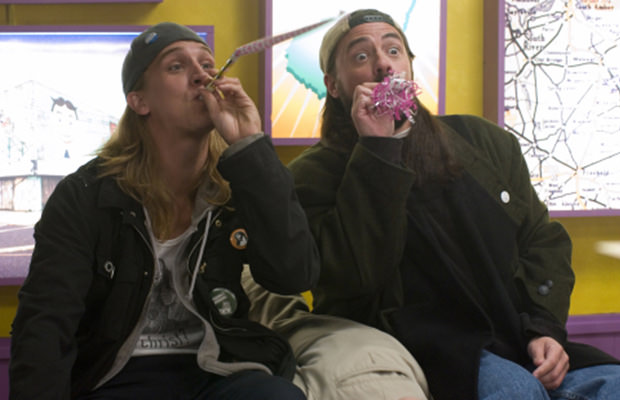 Photo credit: Metro-Goldwyn-Mayer
15 bucks, little man, put that sh*t in my hand. If that money doesn't show then you owe me owe me owe. Yes, two of our favorite stoners are finally hitting big screens (and probably a number of big blunts) yet again.
Although, their creator, Kevin Smith, insists he isn't blowing smoke at the moment.
Not A Drill
Smith took to social media a few days ago to announce
Jay and Silent Bob
are coming back and that "this is not a drill!" In a lengthy post, the filmmaker said he wrote the script for Jay and Silent Bob Reboot in January, while the shooting should start before summer.
He also mentioned that we should be expecting a lot of "all-star cast of cameos and familiar faces!"
The Jay and Silent Bob duo first appeared in a 1994 indie movie "Clerks" which later became a cult classic. The movie put Kevin Smith on the map and Jay and Silent Bob became regulars in Smith's movies.
Poking Fun At Hollywood
Since he sold his rights to Clerks, Dogma, Mallrats, and Chasing Amy, the only movie he could reboot was Jay and Silent Bob.
Here are the highlights from his post:
"This is not a drill! This is an actual image from my laptop! Yes, Kids – @jayandsilentbob are coming back! …Since I sold #Clerks and #Mallrats years ago, they're owned by others, which limits my moves with my own material… …So I don't own Clerks, Mallrats, Chasing Amy or #Dogma… But I DO own #jayandsilentbob."
"And so all last month, I had the time of my life laughing while writing "Jay and Silent Bob Reboot" – a fun flick in which the Jersey boys have to go back to Hollywood to stop a brand new reboot of the old "Bluntman & Chronic Movie" they hated so much."
Kevin also mentioned that his main idea is to make fun of Hollywood and studios' new obsession with making money via rebooting successful movies. By making a reboot himself. How very meta of Kevin.
"It's a tongue-in-cheek, silly-ass satire that pokes fun at the movie business's recent re-do obsession, featuring an all-star cast of cameos and familiar faces! And I already met with the good folks at Miramax and they're into it, so I'm hoping we'll be shooting in the summer! Never give up, kids. You CAN do anything you want in life, so long as you're patient and malleable. #KevinSmith"