Robert De Niro, Al Pacino, Joe Pesci & Harvey Keitel Started Shooting 'The Irishman'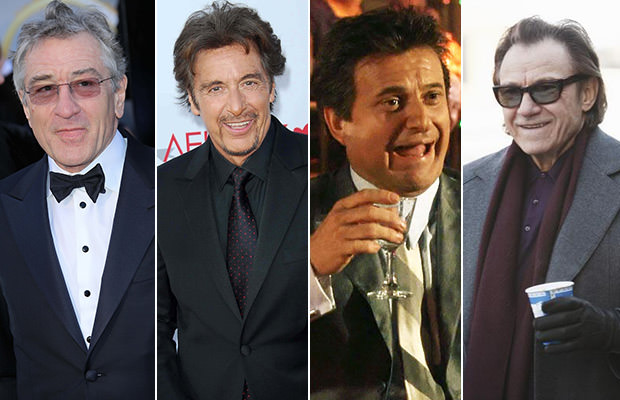 What a combo.
Some of the most famous Hollywood gangstas and noir movie legends Robert De Niro and Al Pacino are joining forces yet again after ten years to shoot Martin Scorsese's upcoming movie "The Irishman."
De Niro and Pacino will be joined by another two legends, Joe Pesci and Harvey Keitel.
First photos from the filming have leaked and old pals De Niro and Pacino indeed look excited to work together once again. Scorsese also appears to be having fun shooting the movie.
De Niro, 74, and Pacino, 77, worked together on both "Heat" back in 1995 and "Righteous Kill" some decade ago, while Scorsese, Pesci and De Niro collaborated on "Casino" in 1995, "    " in 1990 and, of course, " Raging Bull" in 1980.
RELATED: 15 Great Films From the 1990s: Film's (Latest) Golden Age
The Story Of "The Irishman"
Scorsese's upcoming crime drama biopic is based on the story of the real-life hitman named Frank 'The Irishman' Sheeran, while the movie script was adapted from the book about this badass dude titled "I Heard You Paint Houses."
The book was written by Charles Brandt and it centers around the disappearance of mob boss Jimmy Hoffa.
The production of the movie had to face quite a few obstacles over the years, though.
Namely, Martin Scorsese was attached to "The Irishman" project from as far back as 2014, and at the time Pacino confirmed the long-anticipated crime drama was in development. Back then the movie was supposed start shooting in 2016 with Steve Zaillian penning the adaptation, however the whole production had to be pushed back. Paramount was also involved for a short while and after a long haul due to budget problems, Netflix finally bought the film for $105 million and agreed to finance its rather hefty $125 million budget, and the release date was set for 2018.
Aside from the four aforementioned stars, "The Irishman" project also stars Bobby Cannavale, Anna Paquin, Jack Huston, Ray Romano, Jesse Plemons…
Joe Pesci is rumored to have turned down the offer to be in this movie 50 times before he finally agreed to take part in it. Classic Pesci.