Linda Hamilton Returning As Sarah Connor To The Terminator Franchise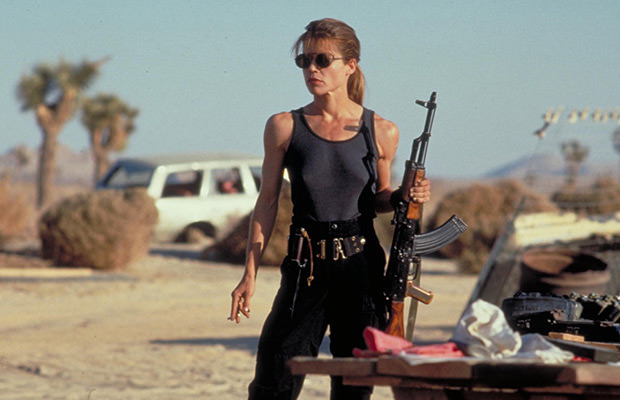 Photo credit: TriStar Pictures
It appears
James Cameron
is determined to completely resuscitate the "
Terminator
" franchise, and he obviously wants to do it the right way.
Recently we learned that Arnold Schwarzenegger is already on board to reprise his role as the Terminator, and now the filmmaker is adding a yet another key element to the reanimation of this beloved sci-fi franchise: Linda Hamilton's character, Sarah Connor.
Cameron spoke at a recent event celebrating the first two Terminator films, when the movie mogul revealed he will indeed be bringing back the Sarah Connor character to the upcoming Terminator installment.
"As meaningful as she was to gender and action stars everywhere back then, it's going to make a huge statement to have that seasoned warrior that she's become return," said Cameron.
Gender (In)Equality In Action Movies
The filmmaker also stated that bringing Sarah back is part of his goal to remind us that gender equality and parity is paramount, especially when it comes to older action stars:
"There are 50-year-old, 60-year-old guys out there killing bad guys, but there isn't an example of that for women."
What Else Do We Know?
As far as other details related to the upcoming Terminator reboot are concerned, we know that Deadpool's Tim Miller will be directing the new movie(s) – don't forget that he's aiming to kick off a brand new Terminator trilogy – while Cameron has created a fresh story which was then turned into a script by currently one of Hollywood's favorite writers, David Goyer (The Dark Knight, Batman Begins, Dark City) and Josh Friedman (The Black Dahlia, War of the Worlds).
(ALSO READ: Michael Keaton Boycotting Nolan's Batman)
Somewhat expectedly, almost all the details regarding the plot are still being kept closely under wraps, however we do know that Cameron's plan for the new movie is to make it a direct sequel to " Terminator 2: Judgement Day," and thus (fingers crossed) remove the recent Terminator movies from the storyline.
"We're starting a search for an 18-something woman to be the new centerpiece of the new story," says Cameron. "We still fold time. We will have characters from the future and the present. There will be mostly new characters but we'll have Arnold and Linda's characters to anchor it."
(RELATED: Top 9 Classic Action Movies To Get You Through The Work Week)