Future 'Alien' Movies Might Not Have Aliens At All, Ridley Scott Hints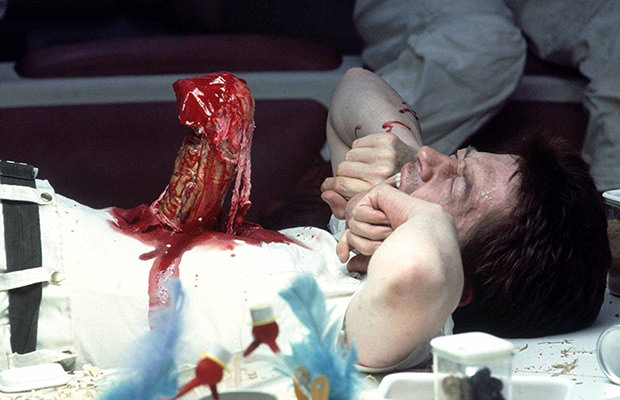 Photo credit: 20th Century Fox
Ridley Scott's original 1979 "Alien" movie marked the start of the biggest and most groundbreaking sci-fi/horror franchise in the history of cinematography. The movie gave us HR Giger's intimidating creation called Xenomorph, which soon became one of the most recognizable and iconic movie creatures of all time.
The famous Swiss surrealist did an amazing job with the design of this terrifying extraterrestrial being that was brought to life on film by a little known Nigerian actor, Bolaji Badejo.
And although the Xenomorph creature has been the key element in Alien movies thus far, it seems Ridley Scott is pivoting the franchise away from our favorite sci-fi monster.
(RELATED: 'Flight Of The Navigator' Remake To Happen)
The Evolution Of The Alien Is Nearly Over
In his recent interview with
Empire Magazine
, the filmmaker said that, should he get the chance to make more installments of the Alien franchise, these movies won't be focusing on the titular life form at all.
"I think the evolution of the Alien himself is nearly over," Scott stated. "But what I was trying to do was transcend and move to another story, which would be taken over by A.I.'s. The world that the A.I. might create as a leader if he finds himself onto [sic] a new planet. We have actually quite a big layout for the next one."
Of course, this pivoting away from the Xenomorph shouldn't come as a huge surprise.
Namely, when Scott finally revisited the Alien universe with the origin story "Prometheus" in 2012, Alien fans were kind of taken aback by his philosophical turn which felt like an utter contrast to the sticky, bleak and terrifying feel of the older movies. Prometheus barely included the iconic creature and had a visible lack of action, elements that had been defining the franchise for decades.
The Xenomorph Lore Passed Away With Giger Himself
Older Alien fans see Sigourney Weaver's badass character Ripley and the monstrous Xenomorph as the fulcrum of the lore, but Scott realized he would have to broaden the story and put some other elements in focus. True fans know that HR Giger's relationship with this movie franchise was tenuous and fraught after the original movie.
As folks over at The Nerdist write:
"James Cameron openly stated he could make a better creation than the Swiss surrealist, cutting ties with Giger in a now notorious letter. For Prometheus, Scott invited Giger back and gave him an art direction credit, utilizing his incredible vision to create the expansive world of the prequel. But before he could return for Covenant. Giger passed away and with him went the ability to create more of the lore and look of the Xenomorph."
This basically means that future Alien movies are the perfect opportunity for Scott to shift the focus to further expanding and exploring the origin story of the Alien. We're totally up for it. You?