Tom Hiddleston Goes Country As Hank Williams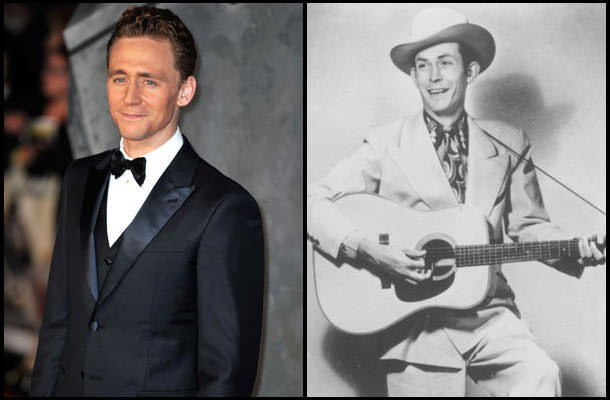 English actor Tom Hiddleston might be best known for his work in Asgard, but for his next project, he's going to be heading to the American South. The affable thirty-three-year-old has signed on to play country music icon Hank Williams. Perhaps more impressively, he's also signed on to sing his songs.
The project in question is called "I Saw The Light." It's based off the acclaimed 1994 non-fiction text Hank Williams: The Biography, and it will be helmed by longtime producer Marc Abraham from a script he wrote himself. Financing will be taken care of by a variety of non-studio parties including Brett Ratner's RatPac Entertainment, Bron Studios and Creative Wealth Media Finance. Provided that all holds up, production will officially begin in Louisiana in October.
Williams ranks high among the most influential country music singer-songwriters, and he lived a life as hard as any character in a country song.
After growing up dirt poor in Alabama during the Depression, Williams skyrocketed to fame with 11 No. 1 hits, including classics "Cold, Cold Heart," "Your Cheatin' Heart" and "I'm So Lonesome I Could Cry."
At a certain point, he was given his own radio show and quickly put together his own band. He was fired from both gigs for partying too hard and was forced to take a job building ships during World War II.
Eventually, he was able to get it together long enough during his mid-20s to land a recording contract, write and sign a string of gigantic hits and join the Grand Ole Opry.
Of course, he lost all of that within a few years thanks to addictions to alcohol, pills and depending on who you speak with, morphine, but that little mini-run somehow produced some of the most beloved country classics of all time. "Move It On Over", "Your Cheating Heart", "Hey, Good Lookin" and a whole lot more were all written by Hank Williams during and in-between shots of alcohol and combative relationships with women.
Tom Hiddleston is well known for his accents and impersonating other people. As such, there's no reason to think he won't be able to crush this Hank Williams role. So, until you hear otherwise, just assume Hiddleston will somehow figure out a way to master his voice by October.