The US Box Office Chart: 'The Boss Baby' Still On Top!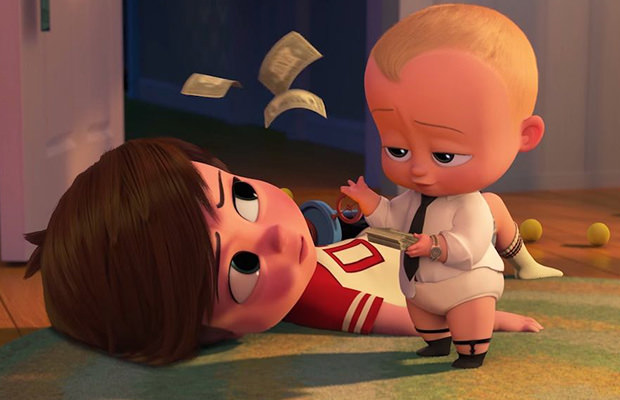 Photo credit: DreamWorks Animation/20th Century Fox
It looks like "The Boss Baby" is indeed the boss! Even the Smurfs going full-animated wasn't enough to move this adorable animated comedy from the US box office throne. Yes, the suit-wearing briefcase-carrying baby is managing to stay at the top of the domestic box office chart for a second weekend now.
The movie added another $26.3 million according to studio estimates, which means "The Boss Baby" grossed up to $89.3 million in the States, while it will soon hit the $200 million mark worldwide.
Truly amazing and a tad bit unexpected.
What Else Is There?
Disney continues to dominate the box office with another huge success in the form of their latest animation-to-live-action transformation "Beauty And The Beast".
This rebooted classic snatched $25 million this weekend, despite having been out for four weeks.
This means the movie is up to $432 million in the US and is now aiming at the billion-dollar mark globally.
"Smurfs: The Lost Village" are in third place grossing $14 million during its opening weekend, which is kind of disappointing if you take into consideration the previous Smurfs opening – the original modern Smurfs took in $35 million on its launch day.
"Going In Style", a bank robbers comedy featuring none other than Hollywood veterans Morgan Freeman and Michael Caine, somehow didn't get the audience too excited, grossing only $12.5 million.
Rounding up the top 5 US box office list is "Ghost In The Shell" with $7.3 million.
The Rest Of The Top 10 US Chart Looks Like This:
6. "Power Rangers" – $6.2 million
7. "Kong: Skull Island" – $5.8 million
8. "Logan" $4.05 million
9. "Get Out" – $4.02 million
10. "The Case For Christ" – $3.9 million.