The Black Panther Is Real!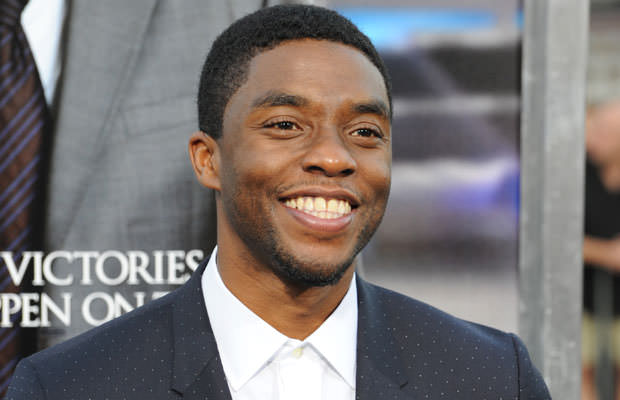 Chadwick Boseman, best known for playing Jackie Robinson in the biopic "42" and the legendary singer James Brown in "Get On Up," has signed a deal with Marvel Studios to play the first ever live-action version of the Wakandan hero T'Challa – best known as Black Panther.
Of course, whenever an actor agrees to a contract with Marvel, it's never for just one film, which leads us to wonder exactly how many movies Boseman is signed on for. It turns out that we didn't have to wait that long for an answer to this burning question.
In their write-up about today's huge Marvel Studios announcements, Deadline has revealed some inside info, saying that Chadwick Boseman has signed a deal with the company that will see him star in at least five films as Black Panther.
It's been revealed that the character will be making his debut in "Captain America: Civil War" – appearing alongside Robert Downey Jr. as Iron Man and Chris Evans as Captain America – though it's been said that the presence of the character will be felt in Joss Whedon's "The Avengers: Age of Ultron."
So if "Captain America: Civil War" is Boseman's first Marvel movie, and the
Black Panther
solo film coming out in November 2017 is his second feature, how will the rest of his contract play out?
"The Avengers: Infinity War Part 1" is the next Marvel movie set to be released after the solo film, and it would be very logical for him to appear in that – making it number three.
Does that mean "The Avengers: Infinity War Part 2" would be movie number four?
And does that leave the fifth and final title for a possible "Black Panther 2?" It's unclear at this point, but at the very least we do know that Chadwick Boseman's Black Panther is going to be around for a number of years.
We're extremely excited for the future of Black Panther in the Marvel Cinematic Universe. Not only does he finally bring some overdue diversity to the superhero lineup, the character also really opens up the fictional world and gives the filmmakers at Marvel to tell some really terrific stories from Black Panther's comic book past.