The Best Of Oscars 2016: DiCaprio, 'The Revenant', & 'Mad Max' Stole The Show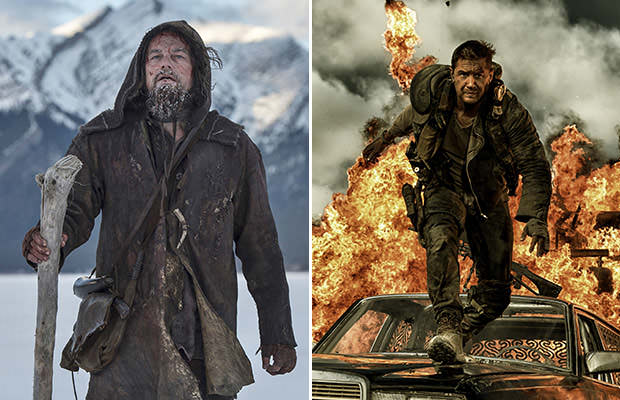 Photo credit: 20th Century Fox / Warner Bros. Pictures
It finally happened – Leonardo DiCaprio won an Oscar! His sixth nomination was the lucky one, with a little help from his friend, Alejandro González Iñárritu.
"The Revenant"
snatched two of the biggest prizes, Best Actor and Best Director, alongside the one for Best Cinematography
(Emmanuel Lubezki)
, though the survival thriller earned a staggering 12 nominations.
Iñárritu thus became the third director ever to scoop back-to-back directing Oscars.
In other news, the most important prize of the night, Best Picture, went to the real-life drama "Spotlight", while "Mad Max: Fury Road" nailed almost all the technical categories.
George Miller's apocalyptic tale went home with 6 golden statues: Best Production Design, Best Film Editing, Best Sound Mixing, Best Makeup And Hairstyling, Best Sound Editing, and Best Costume Design.
Room for More
As for girl power at last night's ceremony, Brie Larson took Best Actress for her performance in drama "Room", and Alicia Vikander won Best Supporting Actress for "The Danish Girl".
"Inside Out" was by far the best cartoon in 2015, so it wasn't a surprise to see it win Best Animated Feature, yet another one for Pixar.
Perhaps the biggest surprise of the evening was the fact that "Ex Machina" manages to beat "Star Wars: The Force Awakens" in scoop Best Visual Effects category, even though Ex Machina's budget was only $15m, whereas Star Wars' went up to $200m.
Chris Rock hosted the whole thing, and even though he was pretty funny throughout, the comedian addressed the bear… sorry, elephant in the room head on, mentioning the lack of black actor nominations several times.