The 18th Annual Satellite Awards: And the Winners Are?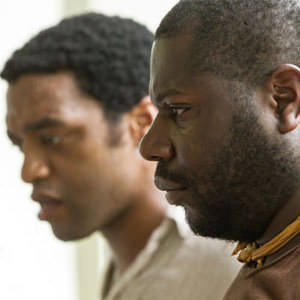 Photo credit: Fox Searchlight Pictures
"Twelve Years a Slave" won the top award at the 18th Annual Satellite Awards, held on February 23, 2014.
In addition to Best Picture, "Twelve Years a Slave" also took Best Director honors for Steve McQueen.
The International Press Academy, an organization of international entertainment correspondents in print, broadcast and digital media, votes for the Satellite Awards in fields of film, television and digital media.
In the acting categories, Matthew McConaughey took Best Actor and Jared Leto Best Supporting Actor, both for their work on "Dallas Buyers Club". Cate Blanchett won Best Actress for "Blue Jasmine". June Squibb from "Nebraska" was Best Supporting Actress. "Nebraska" also received the Best Ensemble, Motion Picture award.
Best International Film went to Belgium's "The Broken Circle Breakdown." Hayao Miyazaki's final film, "The Wind Rises", won best Animated Film and Best Documentary was "Blackfish".
"Gravity" won the most awards overall with three, for film score, visual effects and sound.
The award for Original Screenplay went to David O. Russell and Eric Singer for "American Hustle." The script by Steve Coogan and Jeff Pope for "Philomena" was recognized for Adapted Screenplay.
Bruno Delbonnel won the Satellite Award for Cinematography for his work on "Inside Llewyn Davis". Best Editing honors went to the editors of "American Hustle".
"The Great Gatsby" was recognized for Art Direction and Production Design, and also took the honors for Best Original Song for Lana del Rey's "Young and Beautiful".
The television categories were notable for the fact that all the winners came from either cable or online series. Netflix was the big winner, with five awards overall, four of which went to "Orange is the New Black."
The much-lauded final season of AMC's "Breaking Bad" took the awards for Best Television Series, Drama; Best Actor, Drama (Bryan Cranston) and Actor in a Supporting Role in a Series, Miniseries or Motion Picture Made for Television (Aaron Paul).
Best Actress, Drama went to Robin Wright for the Netflix series "House of Cards".
HBO's series "Game of Thrones" took the prize for Best Series, Genre. "Orange is the New Black" won for Best Ensemble, Television.
"Orange is the New Black" also won Best Television Series, Comedy or Musical, and Taylor Schilling won for Actress, Comedy or Musical. Laura Prepon took the honors for Actress in a Supporting Role in a Series, Miniseries, or Motion Picture Made for Television, John Goodman of Amazon's "Alpha House" was named Best Actor, Comedy or Musical.
The IPA gave the award for Best Miniseries/Motion Picture Made for Television to the Starz series "Dancing on the Edge." Michael Douglas and Elisabeth Moss continued their respective streaks, winning Best Actor and Best Actress in a Miniseries or a Motion Picture Made for Television. Michael Douglas won for his portrayal of Liberace in "Behind the Candelabra" and Elisabeth Moss for her role in the Sundance miniseries "Top of the Lake".
In the digital categories, Best DVD Overall went to the Blu-Ray release of "Star Trek: Into Darkness." "Rise of the Guardians" won Best DVD in the Youth division.
The IPA also recognized top video games in various categories. "Battlefield 4" won Outstanding Action/Adventure, and "Badland" was named Outstanding Mobile Game. Outstanding Role Playing Game went to "Ni No Kuni: Wrath of the White Witch". "Need for Speed Rivals" won Outstanding Sports/Racing Game.
The IPA awards several recognitions for Special Achievements each year. The Mary Pickford Award for Outstanding Artistic Contribution to the Entertainment Industry reflects lifetime achievement, and went to producer Michael Medavoy, co-founder of Orion Pictures and producer of award-winning films like "Black Swan," "Shutter Island," and "Zodiac."
The Nikola Tesla Award for Visionary Achievement in Film Technology was bestowed upon Garrett Brown, inventor of the Steadicam. The Auteur Award went to Guillermo Del Toro, while Gabrielle Tana was recognized as Independent Producer of the Year. Ryan Coogler received an Honorary Satellite Award for his first feature, "Fruitvale Station".