Rock Of Ages Offers Big Hair And Loud Music In Fun Eighties Flashback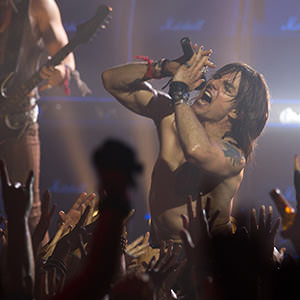 Photo credit: Warner Bros. Pictures
The Eighties were a time of extremes, from big hair and mullets, to colorful, over the top clothing – think neon colors, oversized shoulder pads and parachute pants.
Even the music in the Eighties was extreme with the dominance of make-up wearing heavy metal male bands jamming out the guitar heavy riffs that built a soundtrack for a generation.
Rock of Ages brings all that decade's tacky brashness back to life in a movie adaptation of the highly successful Broadway musical of the same name.
It stars Alec Baldwin, Russell Brand, Catherine Zeta-Jones, Mary J. Blige and a very eccentric Tom Cruise, as a quintessential 80s rock god.
Rock of Ages opens in Oklahoma where wide-eyed innocent Sherrie Christian, played by Julianne Hough (Footloose, Burlesque) boards a bus for Hollywood as the familiar piano strains of "Sister Christian" begin to play.
Sherrie begins to sing the lyrics as she opens her suitcase and flips through her beloved vinyl record collection, dreaming of all the excitement and possibilities that await her in California. Fellow bus riders join in on the song, each passenger relating to the Night Ranger tune in their own way.
After arriving in Hollywood, Sherrie is immediately swept up in the seaminess of the Sunset Strip and quickly has her suitcase stolen. This is how she meets her love interest, Drew Boley, played by Diego Boneta (Pretty Little Liars, 90210).
Drew is a bar back at the infamous Bourbon Room nightclub, a breeding ground for up and coming rock bands. Drew offers to get her a job at the Bourbon Room.
He convinces the bar's owner, Dennis Dupree, played by a long haired, grungy looking Alec Baldwin, to hire Sherrie and the movie takes off from there like a frenetic guitar run.
There are a couple of storylines that intersect throughout Rock of Ages. First is the up and down love story between Sherrie and Drew.
Secondly, the owner of the Bourbon Room is deeply in tax debt and on the verge of losing the club. He gets huge rock star, Stacee Jaxx, played to perfection by Tom Cruise, to play a concert at his club to raise money for the tax bill.
Thirdly, a local politician is trying to win votes with his vow to clean up the Sunset Strip area. His religiously fervent wife played by Catherine Zeta-Jones, vows to politically as well as personally shut down the Bourbon Room.
Rock of Ages as a film captures the decade of decadence quite accurately, yet almost too much, becoming a parody at times. Some of the story lines seemed a bit forced and didn't make sense to the overall feel of the film.
The standout performance has to be Tom Cruise as Stacee Jaxx. He embodies the role both mentally and physically, coming across as transcendentally odd and spacey, as well as unreliable, difficult, drunk and caught up in his role as a sexy rock god.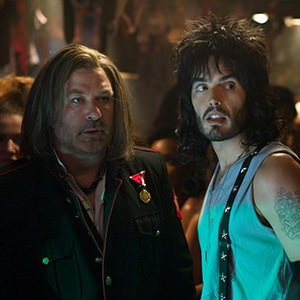 Photo credit: Warner Bros. Pictures
Another surprise was Mary J. Blige as a strip club owner. Her version of "Shadows of the Night" showed her power vocals and gave a huge presence to the film.
Hough is acceptable as Sherrie, but her singing voice got a bit squeaky and grating after a few songs.
Brand is funny as usual, playing an Eighties version of himself, but his pairing with Alec Baldwin, as his right hand man, was an odd match.
By far, the best part of Rock of Ages is the music. It is a musical after all.
Its soundtrack is studded with songs from bands like Journey, REO Speedwagon, Foreigner, Pat Benatar, Poison, Whitesnake, The Scorpions, Bon Jovi, Twisted Sister, Def Leppard and Joan Jett. You will find yourself transported back in time, singing along, banging your head and pumping your fists.
If you want to take a trip back to the excess and debauchery of the 1980s, don't try and find a DeLorean, just buy a ticket to see Rock of Ages. You can experience all the big hair and loud music that made the Eighties so much fun without actually having to wear the embarrassing clothes while you do it.