Pacific Rim 2 Is Rising: Guillermo del Toro Writing the Script With Zak Penn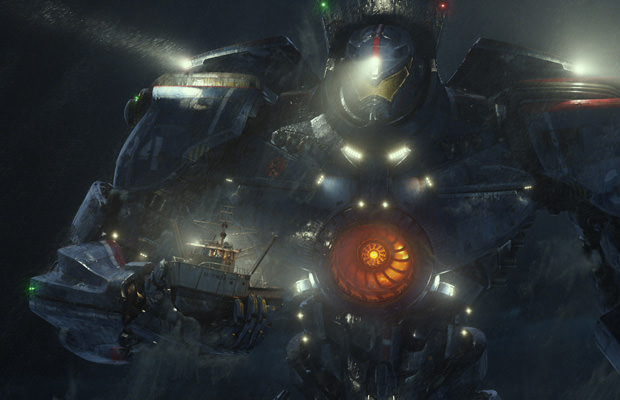 Photo credit: Warner Bros.
Guillermo del Toro was down in Austin, Texas for the premiere of "The Strain," which debuts July 13th on FX. In speaking with the press del Toro said he is currently at work on a script for Pacific Rim 2 with Zak Penn.
In the run up to last summer's release of Pacific Rim, the film looked like it was going to be another lovable, big budget bomb that everyone was destined to wish for a sequel to.
After all, the competition was pretty stiff, and the tracking numbers that the studio had at their disposal had the film pegged for a less than stellar opening against Grown Ups 2. Sure enough, the film opened in third place with a gross of $37.3 million, and it looked like Warner Bros. spent would be splitting even on the $190 million film.
Then, something happened: international audiences flocked to the movie in its opening weekend, and it performed with solid top ten finishes for four weeks in the domestic market. Like Gypsy Danger itself, Pacific Rim rose to fight and won the day.
According to the director, the new script is for a fully-fledged sequel, rather than the prequel that had been rumored, and will see Charlie Hunnam and Rinko Kikuchi's characters return for a second outing. "I'm working very, very hard with Zak Penn," says del Toro. "We've been working for a few months now in secret. We found a way to twist it around."
For those of you who aren't groaning or sighing at the screen yet, Zak Penn is responsible for writing such films as "Inspector Gadget," "Elektra," "X-Men: The Last Stand," and "The Incredible Hulk."
this is a very early stage in Pacific Rim 2's writing process. Legendary Pictures isn't even committed at this point, so it's not like they're writing for a deadline. Guillermo del Toro even said himself, "I don't have the money, but I'm proceeding like it is happening."
So while this is exciting news just the same, there's still a chance that Legendary won't even want to make this happen, especially after Godzilla's huge success and so much focus going into that franchise. Or perhaps that success could be refocused into further building the Pacific Rim series. It's hard to say at this point.