Legendary Actors And Actresses Revisited – Sidney Poitier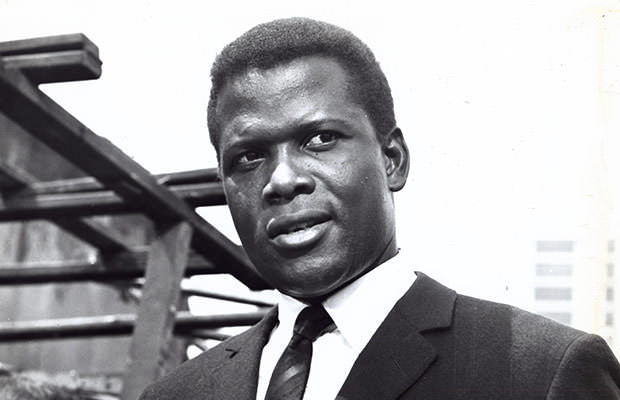 Among all of the stars in the entertainment industry, some do shine a little brighter than others, and Sidney Poitier's star is certainly one of those. Poitier made a huge impact on Hollywood with his talent, and changed the film industry for the better, forever.
Such an impact cannot be attributed to many men, however, this amazing actor never let it get to his head. His life is truly a majestic one, filled with hard work, determination, and a bit of trouble, just to take things more interesting.
Career
Poitier's acting career started off pretty interestingly, which one proved that he was made for big things.
He was working as a janitor for the American Negro Theater in New York City, and he made a deal with the theater to receive acting lessons in exchange for his work there.
That led him to make his way to the theatre's stage, when he filled in for Harry Belafonte in Days Of Our Youth.
After successfully appearing on Broadway for several years, he made his Hollywood debut in No Way Out. His performance scored him a role in the critically acclaimed Cry, The Beloved Country, and later in 1955's Blackboard Jungle, which was his big ticket to celebdom.
However, his amazing performance in The Defiant Ones landed him the biggest achievement any actor dreams of, an Academy Award nomination. From that moment on, Poitier landed truly big roles, one more important than the other (especially his role in A Raisin In The Sun).
Finally, in 1964 he won an Oscar for best actor for his work in Lilies Of The Field, and with it became the first African American actor ever to win it. But he didn't stop there, as he only went on to give his very best in every role he had, consciously defying racial stereotyping, up until 1974. Then he started his 10-year absence from the big screen as an actor, and in the meantime, he worked successfully as a director.
Order your favorite movie with Sidney Poitier – Click here
Poitier made an acting comeback in 1988 with two dramas, Shoot To Kill, and Little Nikita. We portrayed some of history's most famous men, including the one of South African leader Nelson Mandela. He is currently retired from acting, however, this energetic man is always keeping himself busy with his writing.
He has received numerous honors, including the Chaplin Lifetime Achievement Award, the Presidential Medal Of Freedom, and numerous others. He was also appointed a Knight Commander of the British Empire in 1974, but he chooses not to use the title "sir."
Personal Life
Sidney Poitier was born in 1927, in Miami, Florida, two and a half months prematurely, while his parents were on a vacation there. The Poitier family left the United States when he was a bit stronger, and went to the Bahamas. As a child, he always had a way of getting himself into trouble, and as a result, his father decided o send him to the United States for his own good.
He lived with one of his brothers in the South. At the age of 16, he left for New York City, where he worked all kinds of jobs until he found acting, the calling he's been waiting for.
He was married to Juanita Hardy from 1959 to 1965, with whom he has four children – Beverly, Pamela, Sherri, and Gina. He is currently married to Joanna Shimkus, and they have two children together, Anika and Sydney Tamiia. Sidney Poitier also served as an non-resident ambassador to Japan, and to the United Nations Educational, Scientific and Cultural Organization.