Legendary Actors And Actresses Revisited – Peter Sellers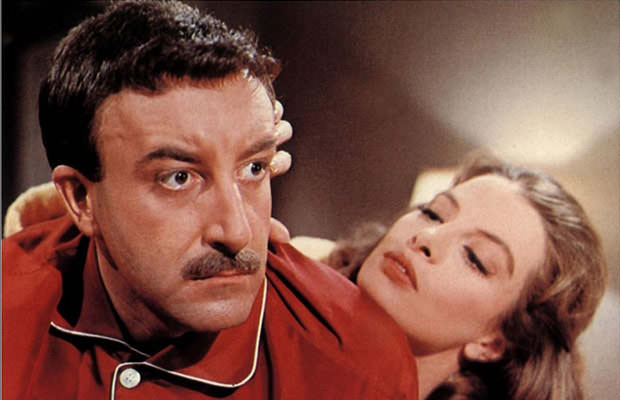 Photo credit: United Artists
There aren't many actors as beloved as Peter Sellers. This talented man is considered as the greatest comedian of all time, but his artistry actually included a whole array of characters in many different genres.
However, this versatile actor is mostly remembered for his excellent portrayal of the famed but clumsy inspector Jacques Clouseau in the Pink Panther franchise, which can't really be considered a bad thing since the unusual police official brought more laughs than all of the world's comedians combined.
Career
Peter Sellers started his rich career in London, where he set up a show combined of music and impressions.
That little gig proved to be the just what the doctor ordered, as it proved to be a gateway for numerous voice-over jobs which launched this funnyman into popularity. However, Sellers didn't stop there as he went on to star in numerous comedy movies which ensured that he gets some well-deserved limelight on him.
After doing Penny Points To Paradise (in which he officially debuted), Down Among The Z Men, and The Ladykillers, Peter let his talents roam free in the role of Fred Kite in I'm All Right Jack, which launched this comedian into the sphere of movie stars. Famed director Stanley Kubrick noticed Sellers' amazing acting capability and went on to work with him in Lolita and Dr. Strangelove.
If you though that this comedic genius reached the peak of his career there, you are sadly mistaken. In 1964, the Oscar nominee started playing his signature role as the famous French inspector Clouseau, who he portrayed until his tragic death, and for which he would be remembered for all time.
Between doing movies in the popular franchise, Sellers played Chauncey Gardiner in Being There, for which he earned his second Oscar nomination, What's New Pussycat, Where Does It Hurt, and in The Fiendish Plot Of Dr. Fu Manchu, which was the last movie he ever did. Two more Pink Panther movies were made after his death, which included clips from the previous movies he did in the franchise and interviews with the characters from the movies.
Visit Amazon and Order your favorite Peter Sellers movie
Personal Life
As it usually goes, although he seemed as the happiest and funniest man on the face of the Earth, Peter Sellers was far from it. He was born to a well-off British acting family in 1925, and his spoiled childhood ways showed their nasty heads later in his already-established career.
Apart from being really hard to work and generally get along with, Sellers also struggled with depression and mental insecurities. He himself often claimed that he had "no identity outside the roles he portrayed." As he became more and more erratic, compulsive, and aggressive, Peter managed to become one of the most hated actors to work with.
He had continuing alcohol and drug abuse problems, which contributed to his serious heart conditions and mental discomfort. Even after surviving two heart attacks and having a peacemaker surgically implanted in him, the not-so-funny man continued on working which only made things worse.
He died in July 1980, after a final blow that his heart could not handle, a day before he was scheduled to have a reunion dinner with his Goon Show partners, Spike Milligan and Harry Secombe. He was survived by Lynne Frederick, his fourth wife, and three children – Michael, Sarah, and Victoria.