Guillermo Del Toro Schedules Another Movie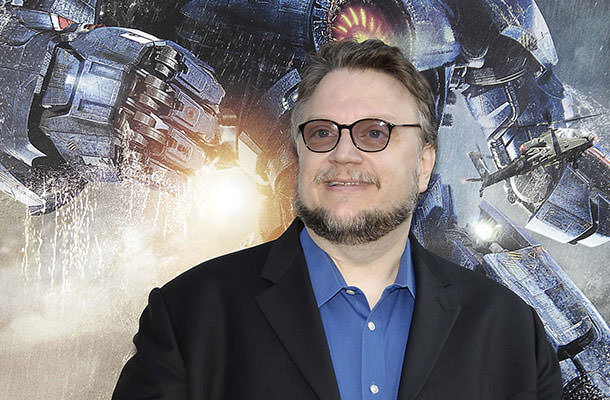 Guillermo del Toro has got two big films on the horizon waiting for him. The first is next year's "Crimson Peak ," a gothic thriller that hits theaters on October 15th, 2015. The second is "Pacific Rim 2 ," which will once again tackle the kaiju-jaeger clash, this time on April 7th, 2017.
That leaves a pretty sizable gap in time for the filmmaker. Maybe not enough to make a big film, but certainly something smaller, weirder. Fortunately, del Toro's intentions are just that.
In an interview with Collider, Guillermo del Toro has revealed that he's looking to follow "Crimson Peak" with a smaller black-and-white film:
"Right away, in February/March I should start on another very small movie, black and white, really, really bizarre before starting — we start pre-production on "Pacific Rim 2" in August, and then I interrupt it briefly to go into the first of next year to do this strange little movie, and then I restart it and go all the way until we start shooting "Pacific Rim 2" at the end of 2015 for release in 2017."
"Strange little movie," eh? That could mean anything coming from del Toro, who has brought us monsters and robots, ghosts and goblins, and very nearly Hobbits as well.
How small this movie will be remains unknown, though it will feature a very untested lead actress at the very least, starring alongside a cinematic legend.
""It's a very small cast. I would love to have John Hurt, and there's an actress that I have in mind that is not well-known but I've seen her in a short film. That's all she's really done, one feature and one short, but she has an incredibly interesting taste and I'm gonna try her out for the main role."
The lead female role suggests that this isn't del Toro's long-rumored "small" film "Saturn And The End Of Days." That picture concerned a young boy as he made his way across a supermarket while the end of the world occurred right outside.
The "Hellboy" filmmaker long considered that film to be the third in a loose Spanish-language trilogy about young people coming-of-age in the face of outlandish supernatural chaos, following "The Devil's Backbone" and "Pan's Labyrinth."
While this isn't going to be a big picture necessarily, del Toro knows where his skill set lies, as he promises, "There's one great creature in it." Creatures will always remains del Toro's forte, and his concrete-sounding schedule of the next three films leaves several creature features as yet unmade.
Del Toro doesn't look like he'll have time for that live-action "Beauty And The Beast," nor will he tackle "Hellboy 3," his "Frankenstein," or the apparently-retooled "At The Mountains Of Madness." We can't clone the guy. We can only be hopeful that we get to see the next few films of one of cinema's most creative storytellers.