George Clooney Apologizes For Batman & Robin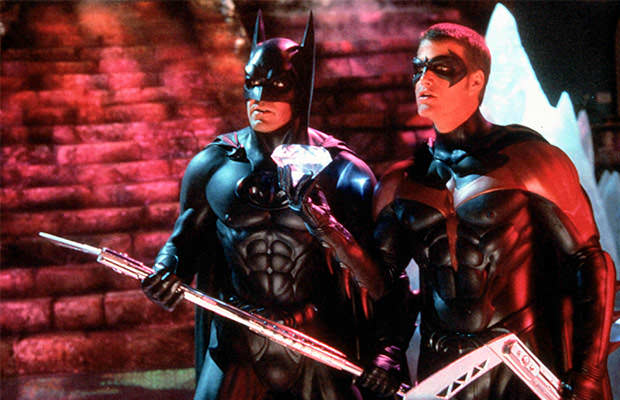 Photo credit: Warner Bros.
Whether you're a DC Comic fan or not, there's no debate on 1997's "Batman & Robin" being a terrible experience for everyone. People who have seen it wish they could un-see it, while most of the folk involved in the making of it regret their decisions.
Among the latter is George Clooney, who played Batman in the said movie. Although almost 20 years have passed since we witnessed the horror and trauma that is "Batman & Robin," but this actor still feels the need to apologize for his mistake.
Along with
Hugh Laurie
and
Britt Robertson
, his co-stars in the upcoming
"Tomorrowland,"
Clooney was a guest at
The Graham Norton Show
recently.
They were talking about Comic-Con, when the American actor remembered his gruesome faith of that one time when he starred as the Caped Crusader.
Said Clooney: "I always apologize for Batman & Robin. Let me just say that I actually thought I'd destroy the franchise until somebody else brought it back years later and changed it. I thought at the time that this was going to be a very good career move. Um, it wasn't."
"Batman & Robin," the movie that featured George Clooney and Chris O'Donnell as the titular characters and Arnold Schwarzenegger in the role of Mr. Freeze is by far considered as one of the biggest mistakes in moviemaking history by fans, movie-lovers, and critics alike.
There are many reasons why people just hate this movie, but thankfully, as Clooney said, Christopher Nolan came somewhere along the way and gave us one of best Batman trilogies the world has ever seen. We will see Ben Affleck take on the role in the 2016 "Batman v Superman: Dawn of Justice."
As for George Clooney, to whom everyone forgave by now, he's in "Tomorrowland," which you should check out at your local theater.