'Game Of Thrones' Casts Popular UFC Fighter Conor McGregor For Unknown Role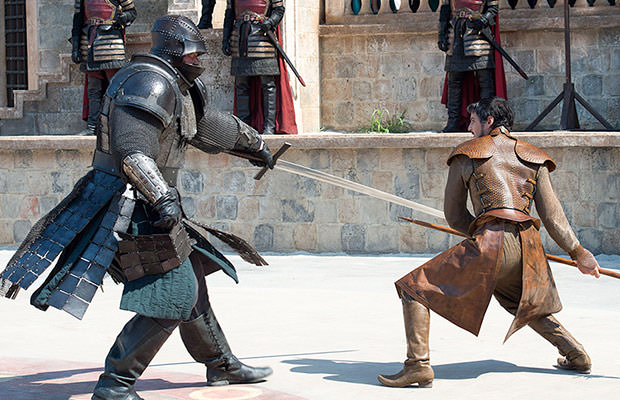 Photo credit: HBO
Has The Mountain finally met his match on Game of Thrones? It certainly looks that way as UFC fighter Conor McGregor is reportedly joining the popular HBO show.
We still don't if this will happen in Season 7 or Season 8, but we are certain it is going to raise one hell of a hype.
"A Perfect Fit For The Show"
Collider
warns that we should take this one with a grain of salt, but according
The Sunday Life
, this appears to be the real deal…
"It's been agreed that McGregor will appear in one of the remaining two seasons of Game of Thrones," says the source from The Sunday Life.
"He was headhunted as it were by HBO, as one of the Game of Thrones directors is a huge UFC fan. They believed that he would be a perfect fit for the show."
However, it is still unknown which role will Conor play and if the famous UFC fighter will actually battle The Mountain.
That's A Big Man!
As fans already know, McGregor has battled Hafþór Júlíus "Thor" Björnsson in the ring once before. He even posted the video of this fight to YouTube.
"It was a lot of fun. That's a big man ­– 6-foot-9, 400 pounds – and I still folded him up", McGregor said of the video.
"I was hitting him with some shots. I had to hit him with some shots. He was trying to hit me, as well. People say, 'He was taking it easy.' He tried to grab me and tried to pull my head off and I defended, freed the head. I was like – 'This mother****er is so big, I have to start smacking him to the body.' … I sunk him good. I caught him good. Not even a Mountain can take these shots from me."
Since we know that HBO is filming Game of Thrones in Dublin (McGregor's hometown), it won't be hard for him to reach the set.
Huge news, indeed!